Shapira Builders Logo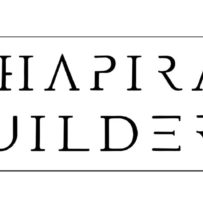 Shapira Builders introducing company logo

I was scratching my head for some time thing about a logo for Shapira Builders.
I was thinking about an image.
Recently I saw a picture or a restaurant and I liked the sign on the wall. 
The letters looked interesting to and I made few sketches. 
 
I asked a friend who is a graphic designer to give me a price to turn my sketch into a logo.
He did wonderful job of creating the image. 
Since it's not based on fonts that you may find at Fonts.com, he had to create it from scratch. 
He drew it on his computer, using programs like PhotoShop and Illustrator.
Now we have an High Resolution image, and the logo is done. 
Here comes the tricky part to turn the image into a product that could be printed at any size and it will always be just as sharp.
How is that been done? 
The image needs to be Vectorized.
The image needs to be converted from Bitmap to a Vector.
Vector art is ideal for printing. Since the art is made from a series of mathematical curves, it will print very crisply even when resized. For instance, one can print a vector logo on a small sheet of copy paper, and then enlarge the same vector logo to billboard size and keep the same crisp quality.

I want to thank my friend Eddie Martinez for his great work.
Dov Shapira