Replacement of twenty interior doors with new Shaker style doors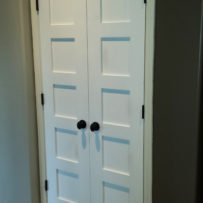 This is a new report from Angie's List member on Shapira Builders. January sixth 2014
Me and my helper replaced twenty interior doors at a home in the Cave Creek town, Arizona.
The Job:
Removing all the hollow core interior doors and hanging 20 new solid core, Shaker stile doors on the existing jambs.
Fitting a door on existing jamb means, cutting the length of the door, planing the width, boring for the door handle and touting for the hinges.
Below is the report at Angie's List by my client in his own words:
Supply and install 20 new interior doors.
Dov is a craftsman…his work is meticulous and he takes both the care and time necessary to achieve results that are considerably above average.  The doors he installed in our home were solid core, five panel, Shaker style doors with sharp edges outlining each panel.  The cut and hanging of double doors was particularly critical to ensure proper alignment of the panels.  Likewise, a pair of double closet doors were dovetailed on the edge where they meet to ensure the gap between these was made as small as possible.  This guy loves his work and it shows in how he does it.  We supplied the hardware, but altered some of our choices based on his advice and experience, the result is something we are extremely pleased with.  The worksite, both inside and outside, was always kept tidy and clean with little trace of their having been there by the time they left.
I would recommend Dov Shapira without hesitation.
Shapira Builders always gives free estimates
Find Shapira Builders on Facebook