Replacement of aluminum patio door with vinyl door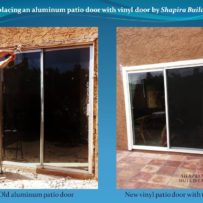 Replacing low grade patio sliding door with new one.
Aluminum based patio doors with aluminum frame, jamb and track are part of the past now.
Before the Aluminum type doors, they were made of steel with very thick glass.
The glass was about quarter of an inch thick, The glass back then, was not safety glass.
The new patio sliding door are made of vinyl.
While the aluminum patio door unit was screwed together, the vinyl is welded, together so to speak.
The vinyl profiles are much thicker then the old aluminum, as results, you get a very rigid  system all together.
The track on the bottom is made of stainless steel verses soft aluminum that gets out of shape easily.
Dual safety glass panes and low E are becoming the standard on all vinyl doors.
This job took place in central Phoenix.
In order to get the old aluminum unit out, I had to score into the stucco to expose the nails.
The demolition takes more time than the actual installation.
To cut into the stucco, I use a four inch grinder. I do it before I remove the old doors, That keeps the dust outside. !!
By the time I trimmed around the door on both sides, you see no gaps anywhere.
No need for stucco repair !
Here is another similar story in this website about removing patio doors and installing new vinyl patio doors.
Click here 
Feel free to ask me anything I could possibly help you with. Click on the tab 'about us' and shoot me an email.
Shapira Builders always gives free estimates.