Custom design bi-fold knotty alder doors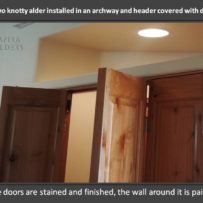 Custom design knotty alder bi-fold doors 
My client found me on Angie's List and asked me to design doors system to fit into an archway that is leading to a guest bed room and a half bathroom.
The guest bed room is right off the main entry door.
The idea is to create more privacy for the guests.
She wanted some kind of bi-fold doors made of knotty alder to match the rest of the doors in the house.
I made a sketch for her and she approved it.
I designed it with a jamb and butt hinges and not with the usual bi-fold hardware.
There is no track on top !!
I ordered four slab doors and jamb material.
As you can see there is no trim around the doors, the drywall with quarter round bead finishes into the kerfed jamb. Kerfed jamb means, jamb with a groove along the jamb to receive the quarter round corner bead.
The job includes:
1. Creating a drywall header above the doors.
2. Installation of the doors unit.
3. Staining and finishing the doors and painting the drywall.
Shapira Builders always gives free estimates.